Mike is a juicy jock, his big slab of dong just glistens as he pumps it and releases his knob juicy and finally a huge load blows all over his well muscled chest. This half black, half latino dude is str8 but gets off doing it on the camera.
Got a thing for a serving of jizz? This hot jock wanks off, stroking his big meat, until he unleashes steaming fresh load of milky white spooge, all served up on a nice black plate.
This scene starts out with some of the lucky thugz getting a massage. But you know they have to pay back the favour by deep throating a bunch of big cocks whilst getting fucked in the ass. Lil Boo is such a cum slut that he gets sprayed by all the thugz in the goo splattering climax … and he loves it!
Bingo Balls is the first in another hot series of hot thuggish black and latin boys. This one features a fit hard hunk muffin with a massive joystick – oh yah and he has got fat swollen balls too.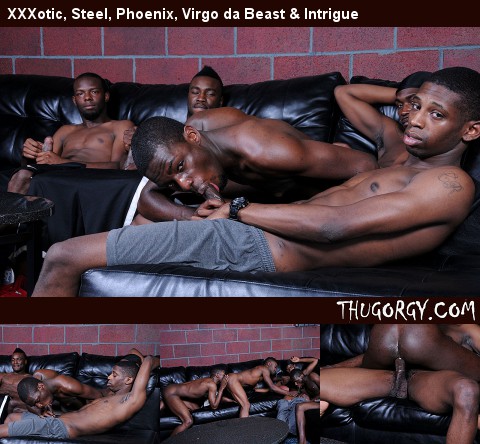 Fresh Thug Meat – XXXotic joins in an all thug cast with Steel, Phoenix, Virgo da Beast and the king of Thugz Intrigue for a scene that wastes no time in getting down to action. Big thug cocks are being fucked and sucked left and right in this hot thug orgy.
Tough guy Javier gets friendly for a moment in front of the camera to show off his stunning body, solid boner and nice fat balls. This latin hunk jerks off and serves up a steamy plate of white cream ready for you to lick up.
A short clip of this hot latino gangbanger blowing his black buddy. It gets better – when his buddy is ready to blow, guess who has his mouth open and waiting to take all that hot sticky cream!
Next in line to deliver a load is this hot mature blatino stud muffin. He has got the hardest fittest tight body and a pretty hot knob to. Getting roughed up by this stud….
Another hot young hunk in our School Holidays series. We rounded up a group of young hot dude just out of school who were ready for some fun and the only rules were they had to do a session with out camera. We provided all the rest….
Fabiano is a 20 yr old fitness instructor and you can tell by his hot rippled body! Awesome abs, hot thick legs and a long hung fat bone just dangling and waiting for attention. Totally breeder, we could not get him with anyone but he is worth it all the same!